The registration, user account, and score reporting services on this website will be temporarily unavailable on Sunday, March 26, between 1:00 a.m. and 6:00 a.m. Eastern time, for system maintenance. We apologize for any inconvenience.
Tests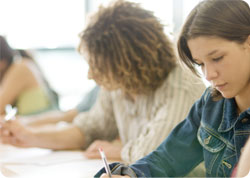 What tests do I need to take? Testing requirements depend on certification type. Read about which tests are required for certification in Oklahoma.
Information about each test. Get specific information about a test, including when and where you can take the test, and access preparation materials by selecting the test from the following tables.
| Test Code | Oklahoma Subject Area Tests (OSAT) |
| --- | --- |
| 011 | Advanced Mathematics—administered through Feb. 4, 2017 |
| 111 | Advanced Mathematics—administered beginning Feb. 6, 2017 |
| 042 | Agricultural Education |
| 002 | Art |
| 010 | Biological Sciences |
| 028 | Blind/Visual Impairment |
| 040 | Business Education |
| 004 | Chemistry |
| 079 | Cherokee |
| 080 | Chinese (Mandarin) |
| 081 | Computer Science |
| 078 | Dance |
| 030 | Deaf/Hard of Hearing |
| 036 | Driver/Safety Education |
| 105 | Early Childhood Education |
| 008 | Earth Science |
| 050 & 051 | Elementary Education Subtests 1 and 2 |
| 082 | Elementary Mathematics Specialist |
| 045 | Elementary Principal Comprehensive Assessment |
| 007 | English—administered through Feb. 4, 2017 |
| 107 | English—administered beginning Feb. 6, 2017 |
| 077 | English as a Second Language—administered through Feb. 4, 2017 |
| 177 | English as a Second Language—administered beginning Feb. 6, 2017 |
| 009 | Family and Consumer Sciences |
| 020 | French |
| 021 | German |
| 083 | Gifted Education |
| 001 | Instrumental/General Music |
| 037 | Journalism |
| 023 | Latin |
| 038 | Library-Media Specialist |
| 041 | Marketing Education |
| 024 | Middle Level English |
| 025 | Middle Level/Intermediate Mathematics—administered through Feb. 4, 2017 |
| 125 | Middle Level/Intermediate Mathematics—administered beginning Feb. 6, 2017 |
| 046 | Middle Level Principal Comprehensive Assessment |
| 026 | Middle Level Science |
| 027 | Middle Level Social Studies |
| 029 | Mild-Moderate Disabilities —administered through Feb. 4, 2017 |
| 129 | Mild-Moderate Disabilities —administered beginning Feb. 6, 2017 |
| 012 | Physical Education/Health/Safety |
| 013 | Physical Science |
| 014 | Physics |
| 032 | Psychology/Sociology |
| 034 | Psychometrist |
| 015 | Reading Specialist |
| 022 | Russian |
| 039 | School Counselor |
| 033 | School Psychologist |
| 047 | Secondary Principal Comprehensive Assessment |
| 031 | Severe-Profound/Multiple Disabilities—administered through Feb. 4, 2017 |
| 131 | Severe-Profound/Multiple Disabilities—administered beginning Feb. 6, 2017 |
| 019 | Spanish—administered through Nov. 26, 2016 |
| 119 | Spanish—administered beginning Feb. 6, 2017 |
| 016 | Speech/Drama/Debate |
| 035 | Speech-Language Pathologist |
| 148 | Superintendent |
| 043 | Technology Engineering |
| 017 | U.S. History/Oklahoma History/Government/Economics |
| 003 | Vocal/General Music |
| 018 | World History/Geography |
---