Study Guide
Field 076: OPTE: 6–12
Sample Selected-Response Questions
General Test Directions
This test contains two sections: a selected-response section and a constructed-response section. You may complete the sections in the order you choose, but it is suggested that you complete the selected-response section of the test first. The directions for each section appear immediately before that section.

For the constructed-response section of the test, you will be presented with three written performance assignments—a Managing the Learning Environment assignment, an Instruction for Students with Diverse Needs assignment, and a Collaboration in the School Community assignment. You will be asked to prepare a written response of 150–300 words for each performance assignment. You should use your time to plan, write, review, and revise what you have written for each performance assignment.

After you have completed a section, you may go on to the other section. You may go back and review your answers to the selected-response questions and your written responses, but be sure you have answered all selected-response questions and completed all performance assignments.

This session will last four hours. You may work at your own pace on the different sections of the test. If you have any questions, please ask them now before you begin the test.
Selected-Response Directions
Each question in this section is a selected-response question with four answer choices. Read each question and answer choice carefully and choose the ONE best answer.

Try to respond to all questions. Even if you are unsure of an answer, it is better to guess than not to answer a question at all. You will NOT be penalized for guessing.
Sample Selected-Response Questions
Competency 0001
Apply knowledge of how students grow and develop, variations in patterns of learning and development, and strategies for designing and implementing developmentally appropriate and challenging learning experiences.
1. Cognitive development in late adolescence is characterized primarily by an increased ability to:
resolve interpersonal conflicts.
comprehend abstract concepts.
define achievable goals.
tolerate ambiguity.
Correct Response: B.
According to Piaget and other recognized theorists, cognitive development moves along a continuum from concrete thinking and manipulation of real objects to hypothetical thinking and consideration of more than one perspective. Once these levels of development have been achieved, an individual is able to understand concepts and ideas that are more broad representations of hands-on phenomena. This ability to think abstractly is usually not achieved until individuals are nearing adulthood.
---
Competency 0002
Apply knowledge of individual differences, the implications of diversity for teaching and learning, and strategies for establishing and maintaining inclusive learning environments that enable all students to meet high standards.
2. Which of the following situations is likely to have the greatest positive effect on an English language learner's second-language acquisition?
The student regularly serves as an interpreter for family members who do not speak English.
The student is immersed in classes with native English speakers to provide ongoing support in using English.
The student has access to digital books and DVDs in the primary language with English subtitle capabilities.
The student has well-developed literacy skills in the primary language to form a foundation for English learning.
Correct Response: D.
English language learners who have strong literacy skills in their primary language already have an understanding of how language works. Many skills and concepts, such as directionality, sequencing, decoding, and knowledge of text structure, are common or interdependent across languages. For example, if an individual learned to read in one language, he or she will be able to apply those skills to learning to read in another language.
---
Competency 0003
Apply knowledge of strategies for creating and maintaining positive learning environments that encourage positive social interaction, active engagement in learning, and self-motivation.
3. One student in a middle school teacher's class consistently distracts classmates during independent work. Which of the following actions by the teacher in response to this behavior best represents a logical consequences approach to classroom management?
reminding the student frequently of the established behavior guidelines for independent work
assigning the student a peer to provide support in staying on task during independent work
having the student move to an individual work space during independent work
sending the student to another area of the school, such as the library, during independent work
Correct Response: C.
Logical consequences are connected in some manner to the offense or misbehavior. In this example, moving the student to an individual work space serves as a consequence for the student's distracting behavior because it removes the student from the situation that facilitates the undesirable behavior. This model of behavior management has been shown to be effective in promoting positive behavior.
---
Competency 0004
Apply knowledge of guiding principles, tools of inquiry, and structures of the teacher's discipline; strategies for creating learning experiences to make the discipline accessible and meaningful; and strategies for engaging students in critical thinking, creativity, and collaborative problem solving.
4. Teaching students to analyze affixes and root words is a particularly effective strategy for helping them determine the meaning of academic vocabulary in which of the following areas?
geography
the fine arts
literature
the sciences
Correct Response: D.
Academic vocabulary in science is often derived from specific root words, usually of Latin or Greek origin. Knowledge of various affixes that can be added to these roots to form new words helps students deduce the meaning of science vocabulary and understand science concepts. For example, the scientific terms endothermic and exothermic. The root of both words is the Greek thermos, meaning heat. The affixes endo- and exo- also derive from Greek, meaning internal and external respectively. With this knowledge, a student could determine that endothermic means internal heat and exothermic means external heat.
---
Competency 0005
Apply knowledge of how to use a variety of assessment strategies and assessment data to evaluate and modify the teaching and learning process and to ensure students' continuous intellectual, social, and physical development.
5. An essay or open-response assessment would be the most appropriate method for which of the following purposes?
measuring the depth of a student's conceptual understanding
evaluating the various characteristics of a student's project
determining a student's knowledge of a broad body of content
monitoring a student's growth and learning progress over time
Correct Response: A.
A well-constructed essay assessment requires students to organize and integrate information. Essay assessments prompt students to examine themes, patterns, and relationships and use various reasoning skills to demonstrate their knowledge and understanding. Responses to essay assessments generally require students to cite evidence and justify their answers.
---
Competency 0006
Apply and analyze instructional planning strategies for supporting all students in meeting rigorous goals that are based on content knowledge, curriculum and cross-disciplinary skills, and knowledge of students.
6. Formative assessment data reveal that many students in a ninth-grade English class have not mastered skills related to analyzing text structures. The teacher's most appropriate response to these data is to:
adjust instructional plans to incorporate different strategies and reteach students the skills in question.
proceed with planned instruction and come back to the skills in question at a later date.
develop additional homework assignments for students that address the skills in question.
consult with department colleagues about how they are teaching the skills in question.
Correct Response: A.
One purpose of formative assessments is to provide the teacher with feedback on the effectiveness of particular instructional strategies in helping students master content. When formative assessment results indicate that a large number of students have not mastered the content, it is a signal to the teacher to adjust the instructional strategies used and find new ways to explain the content. Because skills and concepts in most content areas build on one another, it is important for students to master each set of concepts and skills before moving on to more complex learning.
---
Competency 0007
Analyze the use of various instructional strategies for encouraging students to develop a deep understanding of content and for building students' skills to apply knowledge in meaningful ways.
7. In which of the following situations is a teacher most clearly acting as a coach in the instructional process?
A sixth-grade teacher demonstrates for small groups of students how to use a specific piece of equipment in the science lab.
A seventh-grade teacher suggests alternate strategies students could try during a small-group problem-solving activity.
An eighth-grade teacher assists students in using a university's online library catalog to locate resources on specific topics.
A ninth-grade teacher circulates through the classroom offering encouragement to students during a challenging activity.
Correct Response: B.
Coaching students in the instructional process involves giving hints or cues, providing feedback, redirecting students' efforts, and helping them use a strategy. An important principle in coaching is to provide students with the right amount of help when they need it so that students retain as much responsibility as possible for their learning. By suggesting alternate strategies the students might want to consider, the teacher leaves the decision making about which, if any, of the strategies to try up to the students.
---
Competency 0008
Apply knowledge of strategies for fostering collaboration and positive interactions with students, families, colleagues, and members of the community and for engaging their active participation in promoting students' growth and well-being.
8. Which of the following uses of technology would best support a high school teacher in building a learning community among colleagues from around the state?
joining e-mail groups to receive newsletters from educational organizations for secondary teachers
attending annual conferences of discipline-specific organizations (e.g., National Council of Teachers of Mathematics)
subscribing to the Really Simple Syndication (RSS) feed for the state education association
establishing and maintaining a blog as a discussion forum for interested teachers on current issues and trends in secondary education
Correct Response: D.
A blog is a personal Web site on which the teacher can record personal opinions, links to research articles, and questions for consideration. Blogs allow other teachers to respond to questions, express opinions on a topic, or share challenges and successes. A blog can reach a wide audience of teachers at the district, state, and national levels who share a common interest in a topic or issue. These shared interests and experiences along with the interactive nature of a blog provide the foundation for a learning community.
---
Competency 0009
Apply knowledge of strategies for engaging in professional learning and for seeking leadership opportunities to ensure learner growth and advance the profession.
9. Use the checklist below to answer the question that follows.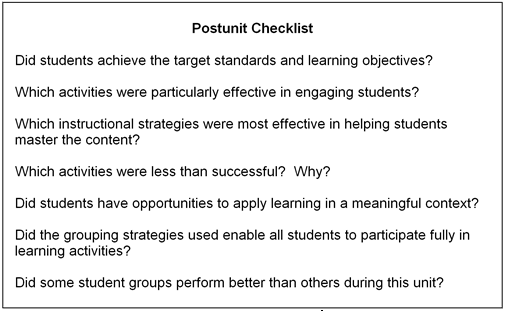 A high school teacher has created the checklist shown to use at the end of each instructional unit. The teacher's use of this approach most clearly demonstrates understanding of the importance of:
designing lessons that promote positive interactions between all students.
emphasizing students' academic growth over reaching a specific achievement goal.
engaging in ongoing reflection on professional practice to improve student learning outcomes.
modifying instruction and the learning environment to address the learning needs of all students.
Correct Response: C.
The questions on the teacher's checklist link directly to the issue of instructional effectiveness. They are focused on student engagement and learning in the context of the unit. Consideration of these questions is helpful in improving instruction because the teacher considers the strengths of each unit as well as any weaknesses that should be addressed in future instruction.
---
Competency 0010
Apply knowledge of legal and ethical aspects of teaching, including the rights and responsibilities of teachers, students, and families in various educational contexts.
10. A middle school social studies teacher believes some topics related to the Holocaust are inappropriate for middle school students even though the topics are part of the school curriculum. The teacher decides to skip the topics in question when teaching students about the Holocaust. Which of the following statements provides an accurate assessment of the teacher's legal rights in this situation?
The teacher does not have a right to alter course content without written approval from a school administrator.
The teacher's right to academic freedom allows the teacher to exercise personal discretion regarding course content.
The teacher does not have a right to ignore or omit course content set by the district or the state.
The teacher has a right to tailor course content according to students' developmental characteristics.
Correct Response: C.
One measure of teacher effectiveness in Oklahoma is that instruction is aligned with state standards. Omitting aspects of the curriculum interferes with this alignment and limits students' access to prescribed content. The standards for teacher performance in Oklahoma also state that the teacher "shall not deliberately suppress or distort subject matter relevant to students' progress."
---